EMPLOYEE USER HELP
Login & RegisterNow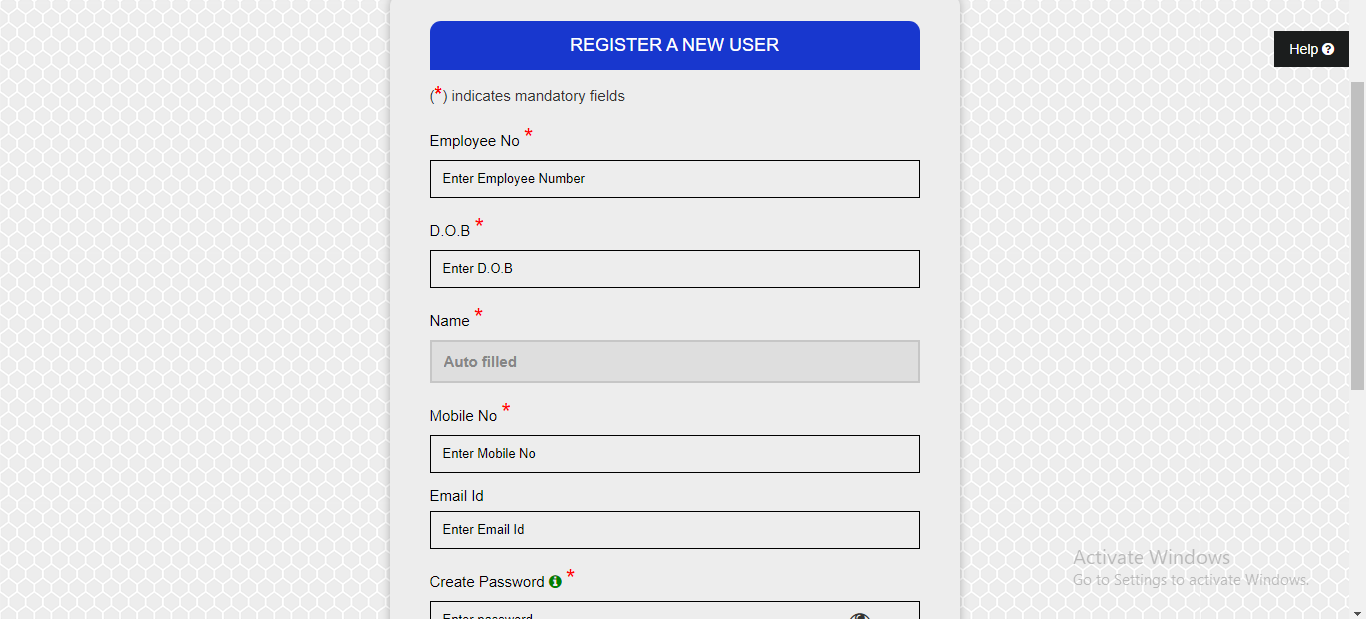 First you have to Register, For Register Follow the Step. Fill Up the Form as Shown in Above Picture.
Welcome

Once Registered, you can LOGIN. Following TABS are Available: Quarter, Safety, Grievance, History.
Clicking on "QUARTER", The Following pages Will Open.
Quarter Home Page

For New Quarter Requisition, Click on "New reqisition". For Existing Quarter Change, Click on "Quarter Change", for up Gradation of Type of Existing Quarter, Click on "Quarter Up Gradation". For Existing Quarter Related Civil,Electrical etc. Problems, Click "Quarter Problem".
New Quarter Reqisition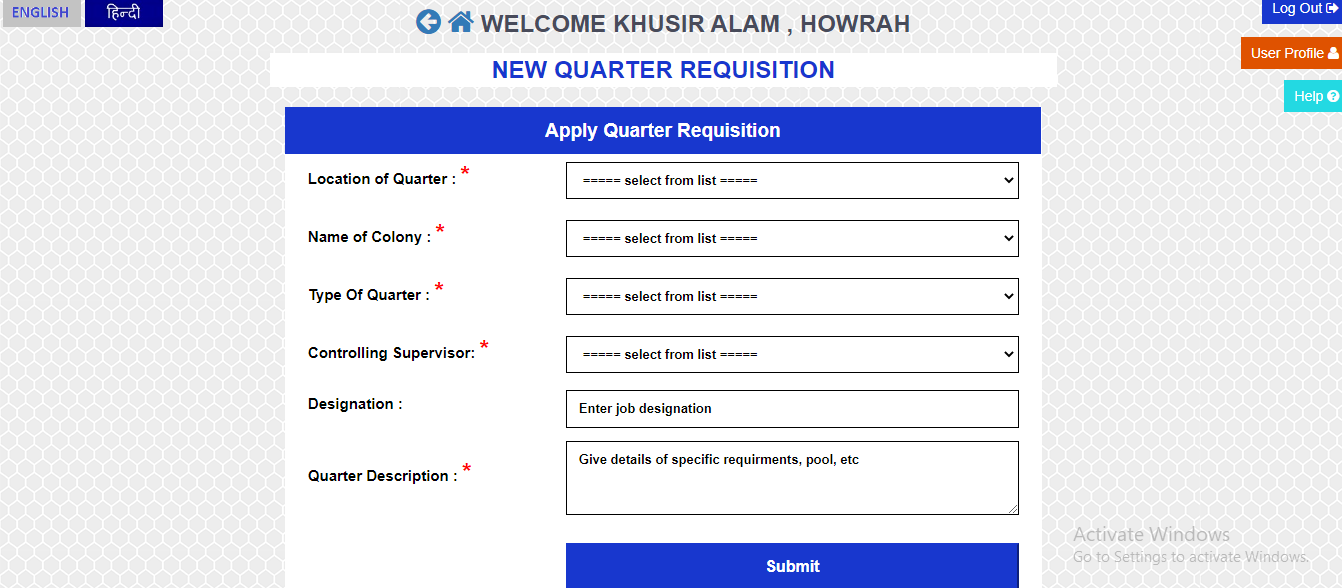 After Filling Up Required Fieled, Click Submit to Register your Requisition. Acknowledgment SMS Will be Sent to your Register Mobile Number. You can Print Hard Copy of your Automatically Generated Apllication and Submit to your Superviosr. Enter data of Hard Copy Submission in "History" tab. You can Check your Status in "History" tab of First Screen. Similar Action Possible for "Quarter Change" and "Quarter Up Gradation".
Quarter Change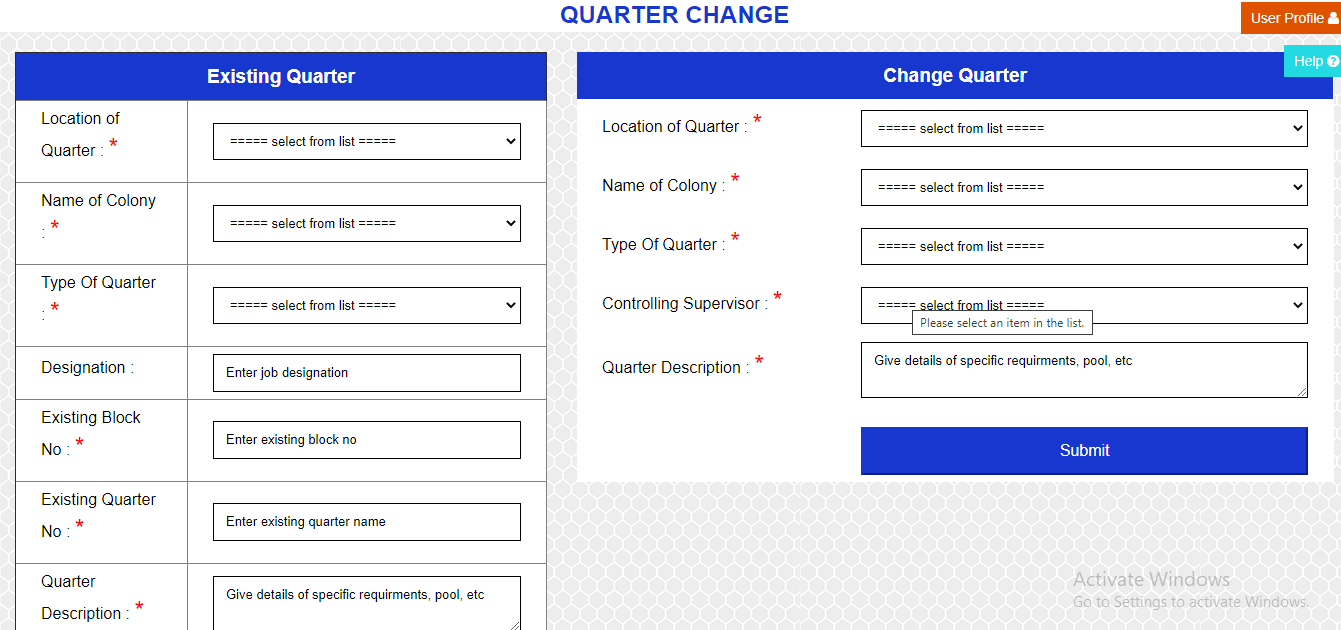 Fill Up Necessary Details for "Quarter Change"
Quarter Upgradation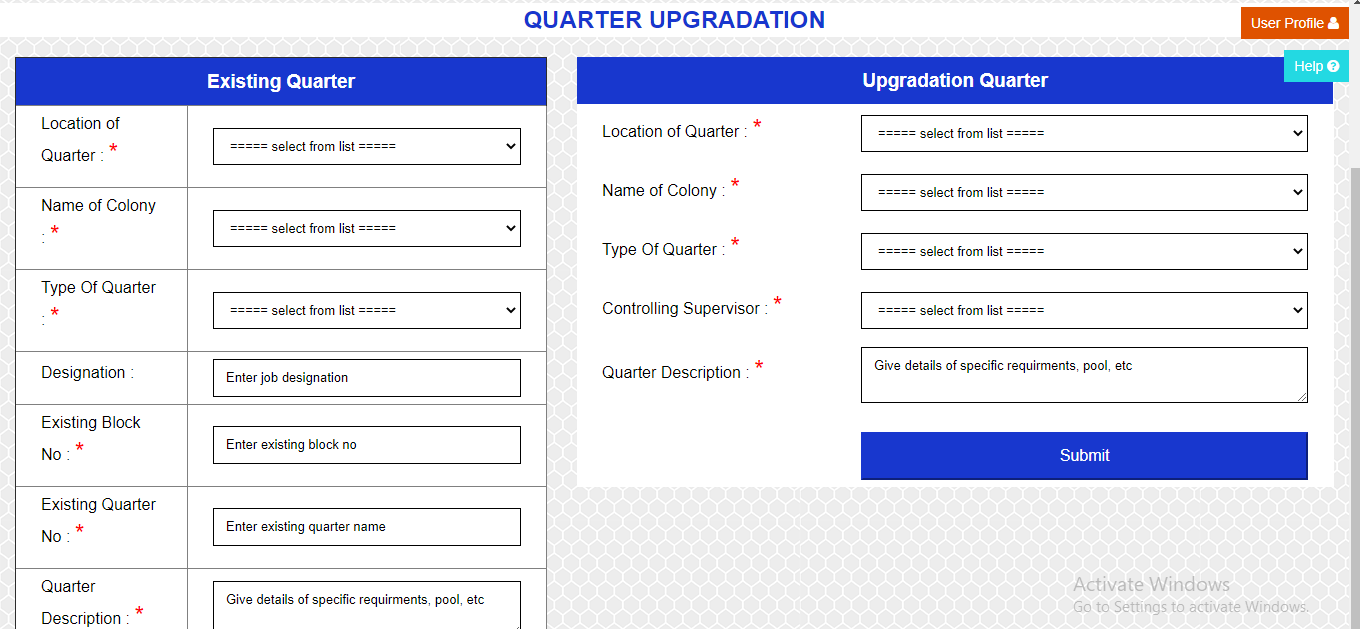 Fill Up Necessary Details for "Quarter Up gradation"
Quarter Problem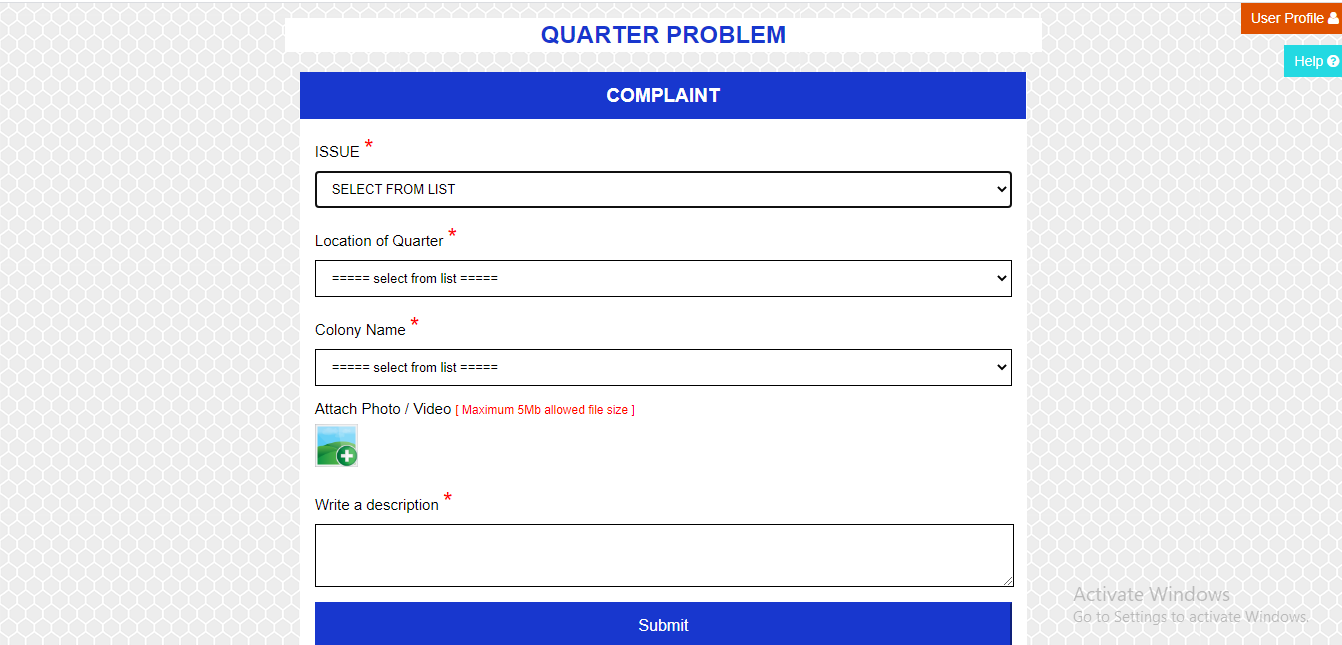 For "Quarter Problems as Guided By the Software. You can Check Status of your Complaint in "History".
Safety Home Page

On Clicking "SAFETY", The Page on Lefthand Side Open. iin "Safety Information", you can Find Safety Related Bulletin, Latest Circular, Safety Drive Details, Safety Alert, Document etc.In "Safety Complaints", you can Register Safety Deficiencies Related to Track, Signal, Electrical, LC Gate etc, which will be Immediately Relayed To Concerned Control and if Unresolved in a Specific time, Escalated to Higher Levels for Immediate Resolution. Pl. ensure proper filling up of required details. In "Safety Suggestion", you can give your Suggestion for Consideration of Appropriate Authority.
Safety Information

In "Safety Information", Safety Related Videos, Presentations and Document Will be Abailable for your Reference.
Safety Complaint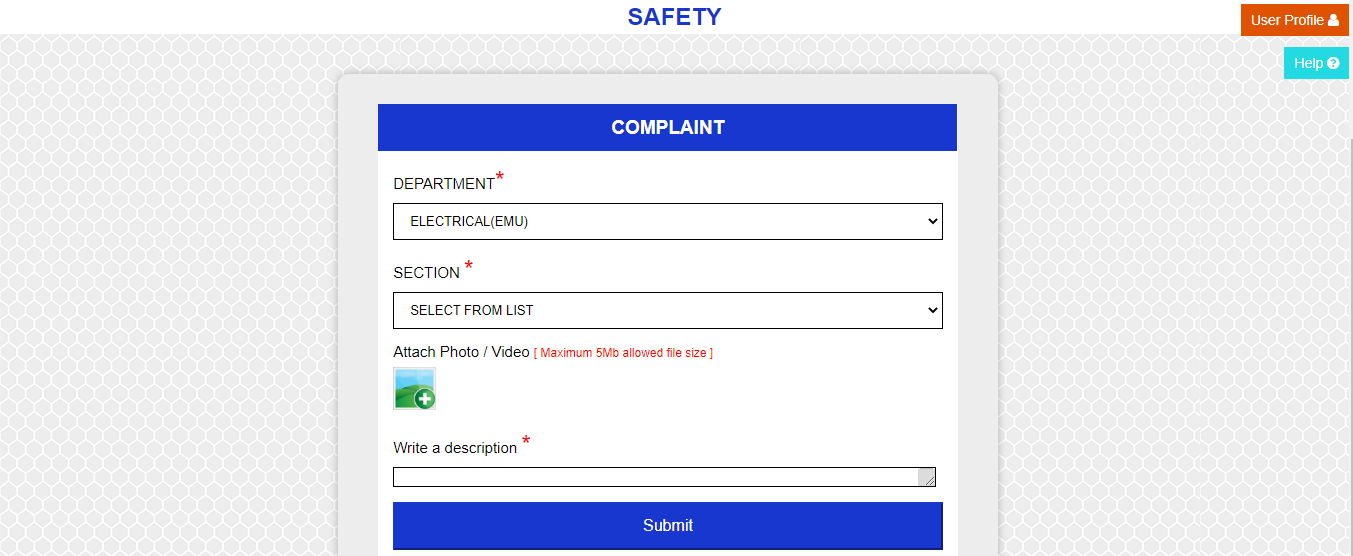 Safety Suggestion

Grievance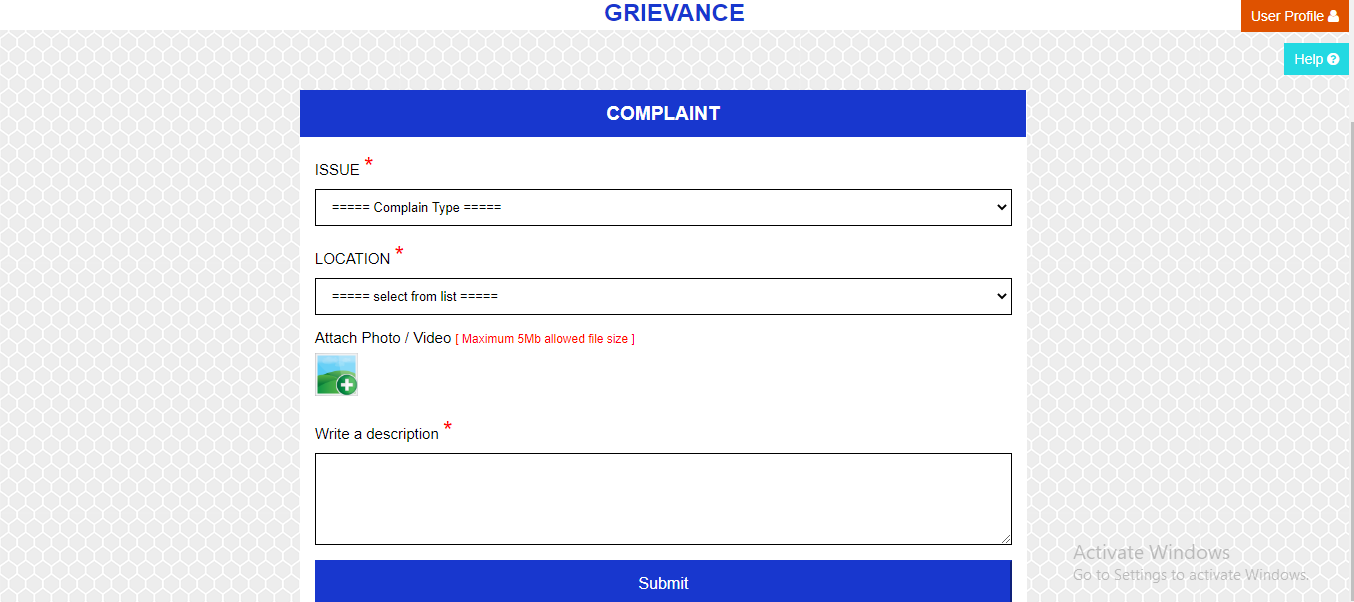 For "Grievance" Related to your Pay, Promotion, Establishment, you can Register your Grievance here.
Status can be Checked in "History".

Now if you want to see all your Submission Status, You can Click on History Button.
History

You can Monitor the Status of your Application, Grievance, Complaints here.